The Safest and Best Beaches in Malta.
It's safe to say that you won't get bored when you've visiting Malta! Being an island, Malta is known for its glorious beaches peppered around the coast. With thousands flocking to the beaches every year, it is important to safeguard the environment and those swimming there. This is where Blue Flag comes in. Blue Flag is one of the world's most recognised voluntary awards for beaches, marinas, and sustainable boating tourism operators. It recognised bays that have pure water, clean coastlines and are safe for swimmers. It's safe to say that these are the best beaches in Malta. This certification is given if the beaches are proven righteous in four areas: environmental protection and awareness, health and safety, sustainable beach management and accessibility and bathing water quality. Enjoy the benefits of booking direct with AX Hotels to visit these top beaches.
Here is a list of all the blue flag Malta beaches for 2023 that are perfectly safe to swim in.
Fond Ghadir Bay, Sliema
Fond Ghadir Bay, a rocky beach located below the Sliema promenade, is your best spot for a relaxing swim. Whether you're a deep-water lover or you simply like to dip your feet into a shallow pool, this bay has it all. It's frequented by many locals and tourists and it's one of the busier ones in this seaside town.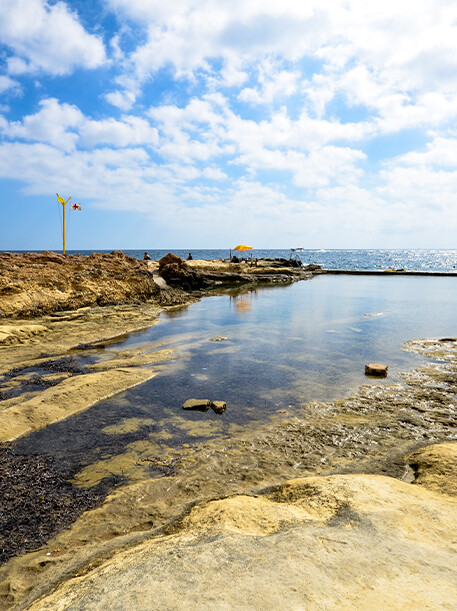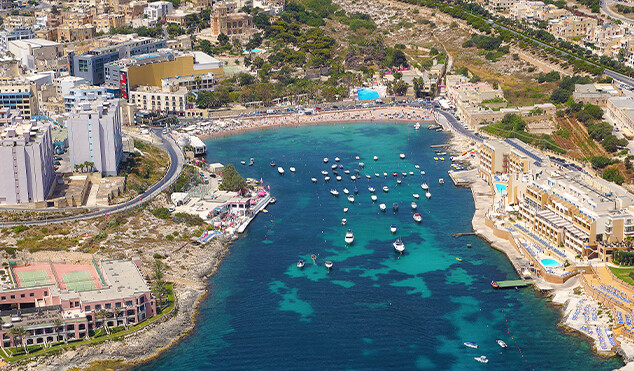 St George's Bay, St Julian's
This man-made Blue Flag beach in Malta is located in a prime position, as it is surrounded by restaurants, and is within walking distance of Malta's nightlife hub, Paceville. A short distance away one can also find the Baystreet shopping complex, a cinema, and a bowling alley. While it's an average-sized beach, it's frequented by tourists and students learning English during the summer. While it tends to be a quieter spot during the day and allows for some family fun, St George's Bay tends to get rowdy during the evening, night and early hours of the morning.
Qawra Point Beach, St Paul's Bay
This beach is located up north along the promenade that joins Salina Bay to St Paul's Bay. It's a rocky bay frequented mostly by residents in the area. It's a quiet spot with the Qawra coast as your view. A word of warning: our recommendation is to take your own umbrellas and beach facilities as there isn't a service of the sort at this spot. Don't forget, that Mediterranean sun can be quite nasty!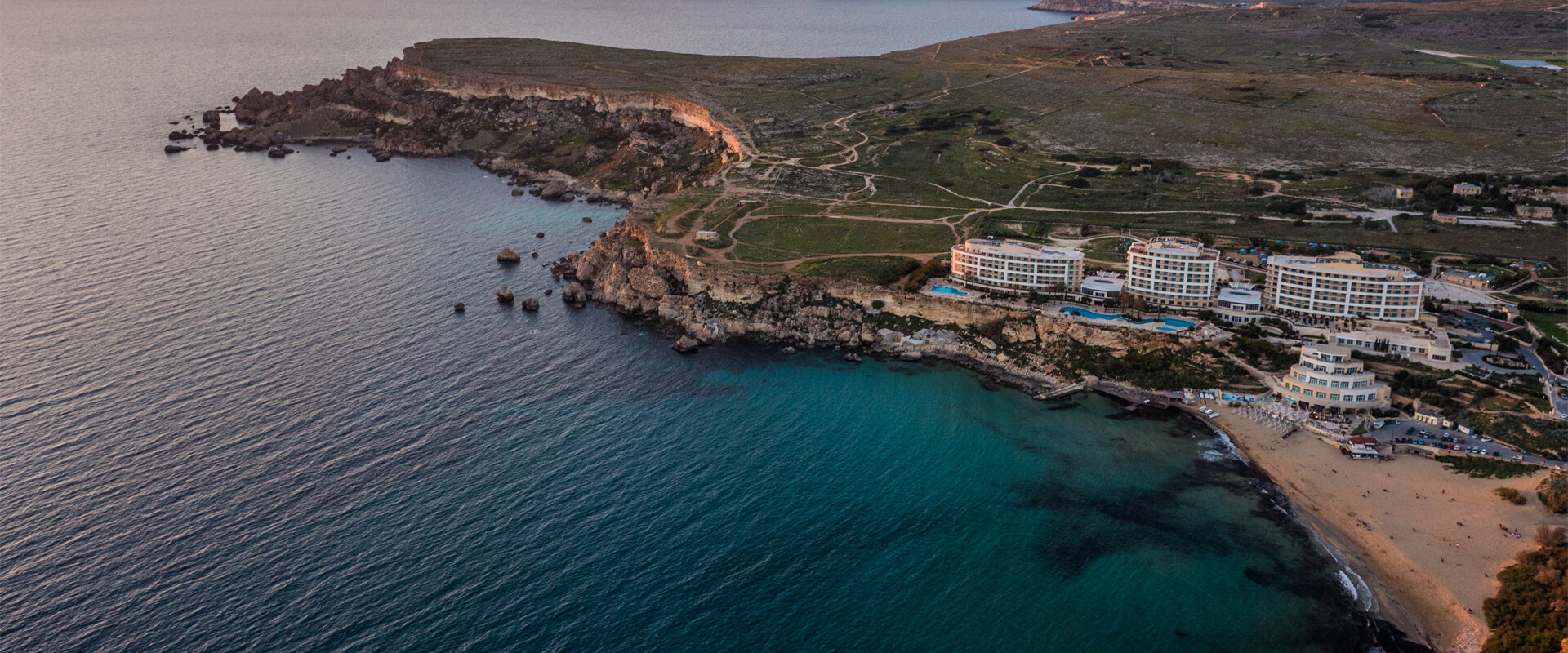 Bugibba Perched Beach, St Paul's Bay
Another popular Blue Flag beach in Malta is the perched beach, situated along the Buġibba promenade. It's actually a man-made beach on a raised rocky shoreline. You can even rent umbrellas and dive in for some snorkelling exploring! You can swim in the clearest of waters and sunbathe to your heart's desire. On the plus side, if you get bored, you can also head to the town square since it's very close to Perched Beach.
Ghadira Bay, Mellieha
Ghadira Bay is the largest sandy bay on the islands and also one of the most popular, with locals and tourists alike. It is located in the northern part of the island, and is optimal for families travelling with young children, as the water is shallow in parts of the sea. Another reason why you should visit this delightful bay is that there are an array of activities taking place, which include windsurfing, kite-surfing, canoeing and water-skiing. The sandy beach is usually packed with people from morning to night during the summer months so if you're planning on going, we suggest heading there early!
Golden Bay, Mgarr
If you're a sunset lover, Golden Bay in Mgarr is the place for you, as it presents you with the view of one of the most magnificent sunsets in Malta. The gorgeous sandy Blue Flag beach is of a light colour and is surrounded by natural countryside. The sea is crystal blue, making it ideal for snorkelling, and the beach is also encircled by majestic cliffs, overlooking the swimmers and sunbathers. It's a big beach with plenty of space, but again, it's a popular one that many locals and visitors flock to so you might want to head there early. Sunbeds and umbrellas are available, as are public toilets and the kiosk on the side.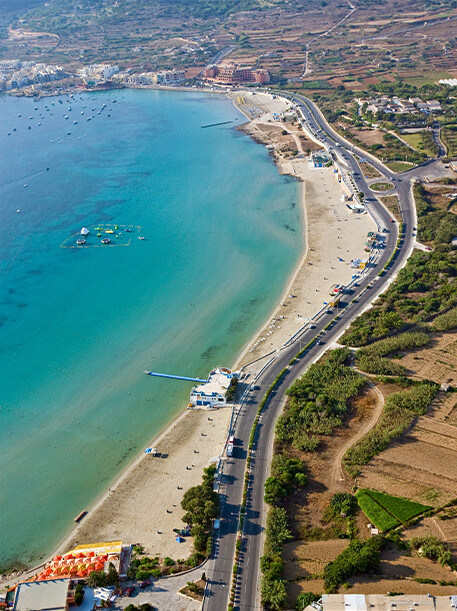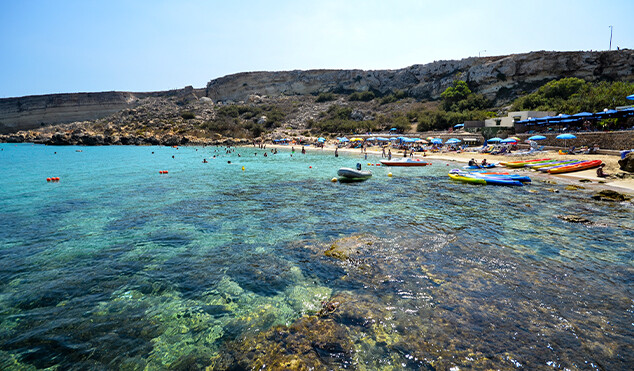 Ghajn Tuffieha Bay, Mgarr
Ghajn Tuffieha Bay, situated just one inlet over from Golden Bay, is known as Riviera Bay with the locals. A smaller sandy beach but very popular. There's even the lively Singita restaurant in case you feel peckish. Heads up, though – there are about 200 steps to get down to the beach and up again. The view is definitely worth it, though!
Ramla l-Hamra, Gozo
This sandy Blue Flag beach is the biggest one located at Malta's sister island, Gozo, and is distinguished because of its remarkable reddish and golden sands and its magnificent surrounding features. It's usually a popular beach that many visitors love to go to with its vast sandy area and surrounding amenities. It's also a popular beach chosen by sea creatures such as turtles who waddle their way up the beach to lay their legs. Every summer, locals hear more than one story of turtles hatching on this beach. It's a beautiful sight and if you ever see a turtle on the beach, it's important not to disturb it and call Nature Trust Malta instead. Another aspect which makes this bay stand out is that an attention-grabbing statue of Holy Mary and baby Jesus in the middle, which is not an element usually found on a beach.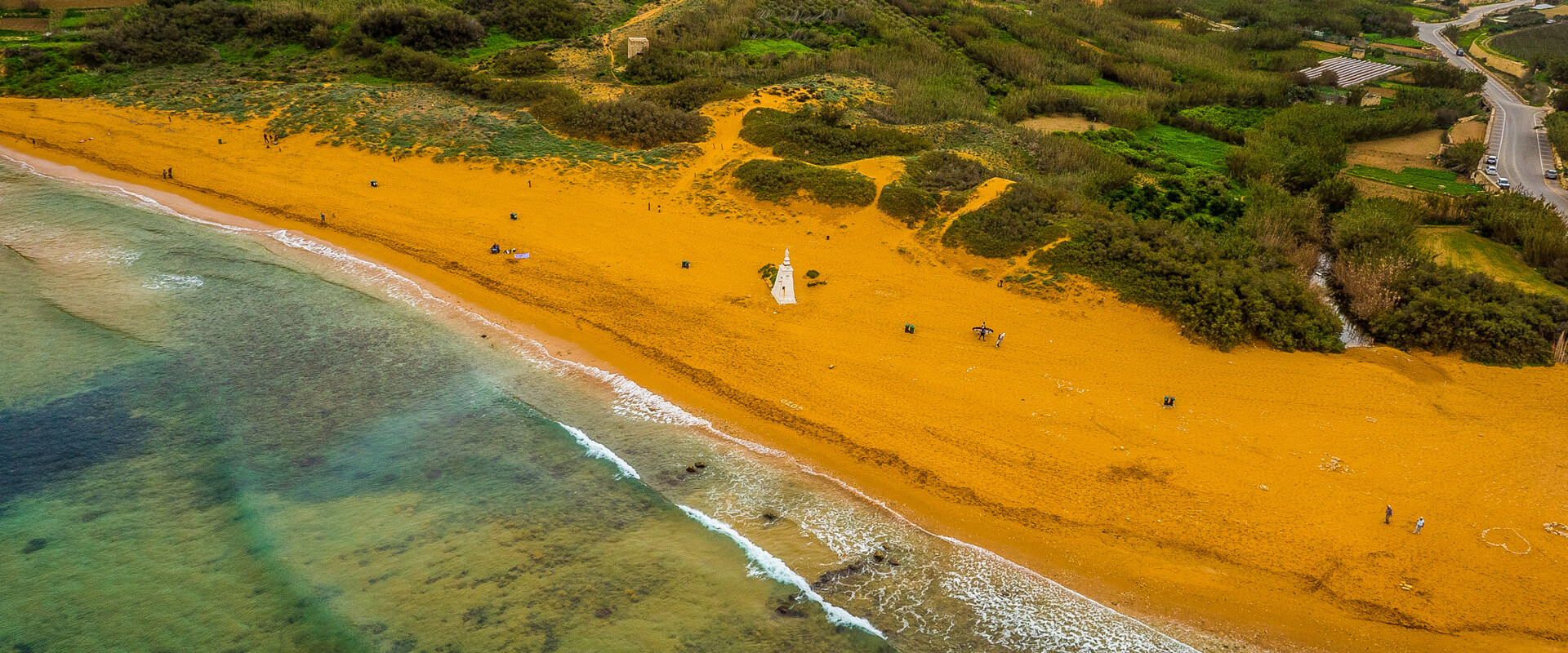 Hondoq ir-Rummien Bay, Gozo
The beach over at Hondoq ir-Rummien presents visitors with the best of both worlds, as it holds both sand and pebbles. Its waters are crystal clear and of a dazzling light blue colour. Moreover, it is extremely popular with divers and snorkelers, as it contains small coves at sea level. What's more, the bay is surrounded by countryside, which would allow you to go on a relaxed stroll after your dip in the sea. Sunbed and umbrella rentals are available, so get your tan on and enjoy your day out in the sun!
Marsalforn Bay, Gozo
Another beach with a combination of sand and pebbles, and which vibrates with life, particularly in the summer season due to the summerhouses located there, is Marsalforn Bay. This beach is perfect for families visiting with young children, as the sea is protected from winds and the waters are not too deep. Having been recently turned into a pedestrian area at certain parts of the day, it's a safe bay for all to enjoy. There are many restaurants right by the water's edge, together with kiosks and shops that will cater to all your needs – be it a snack, a refreshing drink or a cheeky ice cream.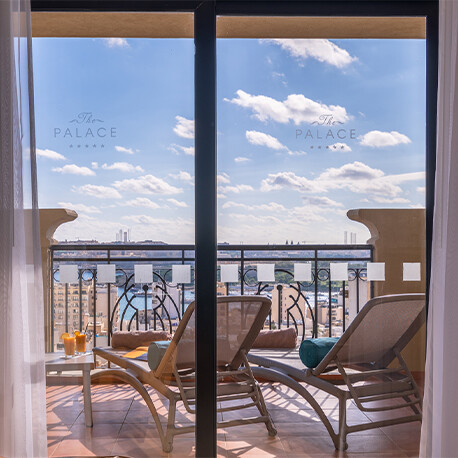 Book your stay in Malta and be close to all these blue flag Malta beaches!
Book your stay