An excellent blue flag beach in Gozo.
Ramla Bay is located in Malta's sister island Gozo, and is easily accessible through the villages of Nadur and Xaghra. It is the largest beach on the island, and is most known for its exceptional reddish and golden sands, as well as its surroundings. Additionally, the bay proudly holds a blue flag, which means that the beach is of optimal quality, boasting environmental friendliness, a variety of amenities and ultimate safety.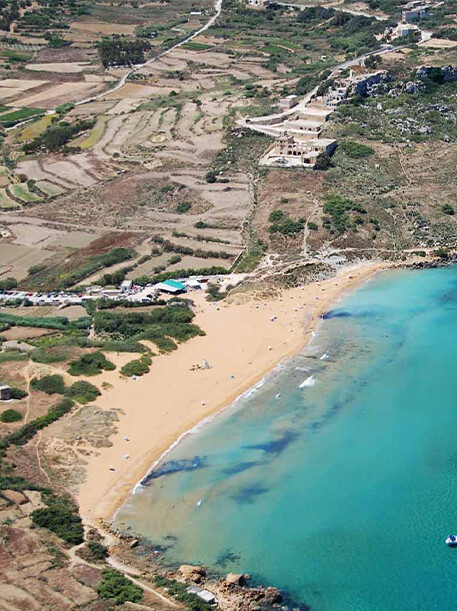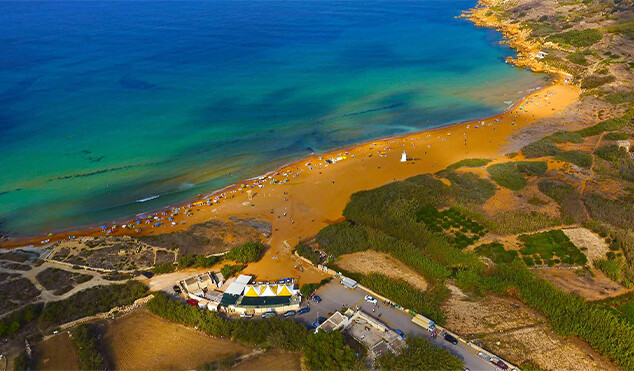 This attractive beach has plenty of positive attributes. Firstly, it's an unspoilt retreat in the middle of delightful countryside, surrounded by exquisite nature. Apart from when the day is windy, the sea is perfect for families travelling with young children, as it is quite shallow. For those who prefer swimming in deeper seas, there is a path which leads to Taht L-Irdum, where the water is deeper. Ramla Bay also has the added bonus of being a historic site, featuring ruins of a richly-decorated roman villa, which now lie buried beneath the sands. Additionally, one can find the Vendome battery, which the Knights of St. John had built against enemy intrusion, and high up on the cliffs which face the sea, one can find the Fougasse, which is a hole where explosive material was pressed and fired at the invaders. Additionally, the bay stands out because of the attention-grabbing statue which is placed in the middle of the sands, depicting Holy Mary and baby Jesus, an unusual element on a beach. The bay is also well equipped with amenities, such as umbrellas and sunbeds, a selection of watersports, accessibility and toilets, places where food and drinks can be bought, and parking spaces.
If you're planning on visiting the beach by car, this shouldn't be difficult, as it is only a 17 minute drive away from the ferry terminal of Imgarr, and parking areas are found nearby. If you choose to travel by public transport, this is also quite easy, as you simply have to catch bus 322 towards Marsalforn, and then walk for 5 minutes towards the beach.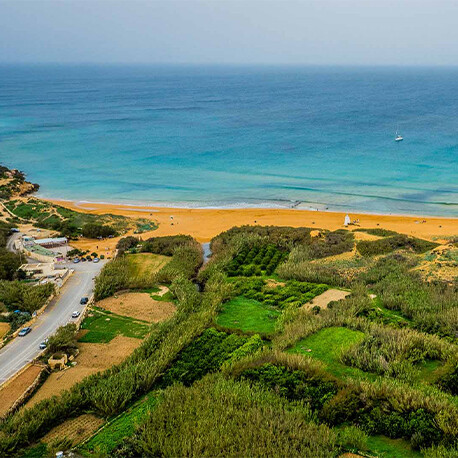 Book your stay at one of our AX Hotels today, to pay a visit to this splendid beach!
Book your stay