Step out of your self-catering apartment and onto one of these beautiful beaches near Qawra Malta.
With its crystal-clear seas, breath-taking seascapes and splendid climate, it comes as no surprise that Malta is known as the 'Gem of the Mediterranean'. Both locals and tourists alike head towards one of the many beaches in Malta during the summer, when the sun shines over the island for up to 12 hours each day. If you're booking your stay at one of our properties in Qawra, one can literally step out of their door and into the water. Take a look at the beaches near Qawra Malta, as well as beaches located in the locality.
The Qawra Seafront
While the sea is never far from reach on a small island, it's often worth travelling that little bit extra to discover the stunning beaches along Malta's northern coast. If you're spending your holiday in Qawra, however, you're in luck! From this relaxing-yet-lively seaside village, you can visit some of Malta's most beautiful bays with ease, as Qawra is perfectly located in the northern region of Malta.
Qawra Point Beach
A 3.5 kilometre seaside promenade stretching from Qawra to Buġibba and St. Paul's Bay is home to numerous swimming spots of visitors. One notable spot is Qawra Point Beach, a hotspot for snorkelers due to its clear waters and rich underwater life. Divers are also drawn towards this Qawra Beach, where the 15 metre Fra Ben Cave is found. On a sunny day, divers can see rays of sunlight dancing around the rock.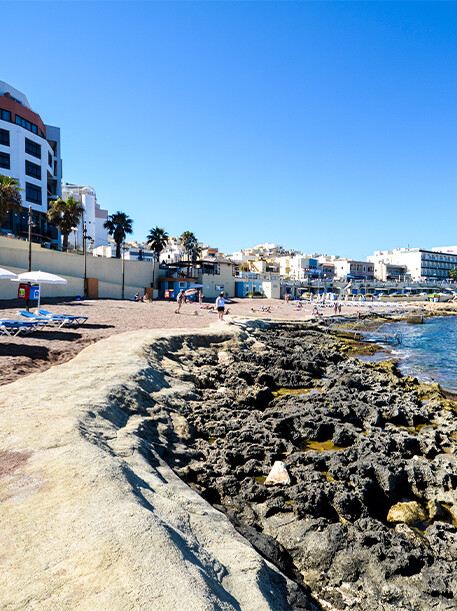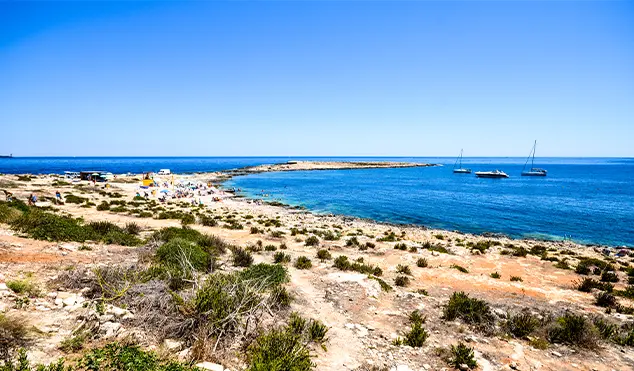 Bugibba Perched Beach
A small natural rocky beach that has been filled up with sand and platforms to aid access to the water, the Buġibba Perched Beach is a great place to spend a day by the sea. It is one of the beaches near Qawra Malta. If hunger strikes, head to the Buġibba town square for a bite to eat at one of the many restaurants found there.
Beaches near Qawra Malta - visit Golden Bay, Ghajn Tuffieha and Mellieha Bay
These beautiful sandy beaches near Qawra Malta, located on the North West coast of the island, are surrounded by clay slopes and untouched cliffs. Għajn Tuffieħa Bay, sometimes called Riviera, is smaller and more peaceful than Golden Bay, which boasts beautiful waters and sports activities. The rural landscapes found on these beaches provide the perfect backdrop to enjoy the sunset.
Mellieħa Bay, also known as Għadira Bay, is one of the largest and most popular sandy beaches in Malta. The shallow waters, soft sands and child-friendly activities make it a popular swimming spot for families. On the livelier section of the beach, visitors can also enjoy water sports such as windsurfing, kite surfing, canoeing, and water-skiing.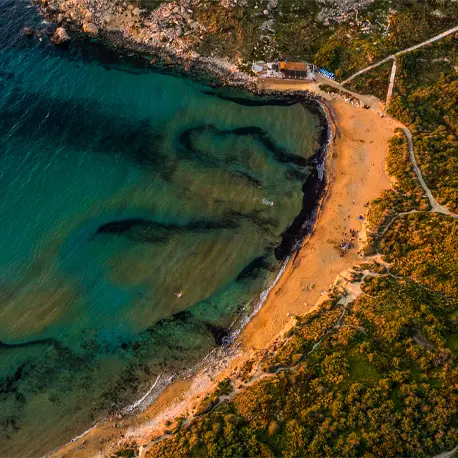 Our properties in Qawra are ideal to explore Malta's Northern beaches!
Book your stay