Back to Discover Malta
The Top Malta Beaches to Visit to Complete Your Summer Vacation
Scroll down
and dive deeper
Rocky beaches, sandy beaches...You name it, Malta Beaches are the Best!
It's no secret – our island is mostly known for its picturesque and popular beaches and clear waters. The best thing about these beaches? The weather is warm enough to take a dip for almost nine months of the year! Starting as early as March to October, and sometimes even November, you can take your pick and swim in one of the top Malta beaches below. Get ready for the ultimate summer vacation in Malta, Gozo and Comino!
Golden Bay
Located in the close proximity of Mellieha, Golden Bay is one of the largest sandy Malta beaches that has obtained its blue flag. The beach gets busy during the summer months so our tip would be to head there early to secure your swimming spot on the beach. This beach is also popular with adventurous travellers since there are a lot of inlets and coves to explore.
Ghajn Tuffieha Bay A.K.A Riviera Bay
Riviera Bay, located in Ghajn Tuffieha, close to Mgarr, is a smaller sandy beach than Golden Bay but still extremely popular with locals and tourists alike. The only downside to this beach is that it can only be reached by climbing down an incredible amount of stairs! Going down might seem like a walk in the park but it won't feel like it when you're climbing up after a long day in the sun! However, the beach is exceptionally beautiful which makes it one of the top beaches in Malta! The beach is also equipped with a bar which makes it easier to enjoy a cold beer or cocktail on a hot day in summer.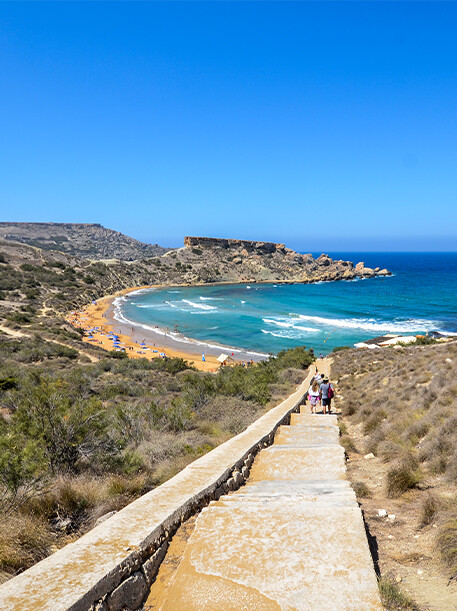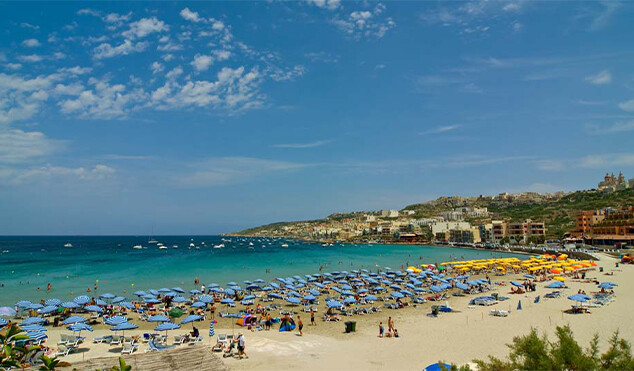 Mellieha Bay A.K.A. Ghadira Bay
If you're travelling with children, Ghadira Bay is the ideal sandy beach for you. The beach starts off as very shallow and gradually moves into deeper depth. This means that you can enjoy a swim while your kids are happily building sand castles in the shallower areas. You can also enjoy water sports at this bay such as kayaking, windsurfing, banana boating and water skiing.
Dwejra Bay, Gozo
Previously known for the infamous Azure Window, Dwejra Bay is incredibly popular on its own. A small but beautiful bay lies here and it is perfect for snorkelling and scuba diving since there are cave diving sites in the vicinity. On windy days, the sea can get very rough here so make sure it's safe to swim before attempting to take a dip/dive.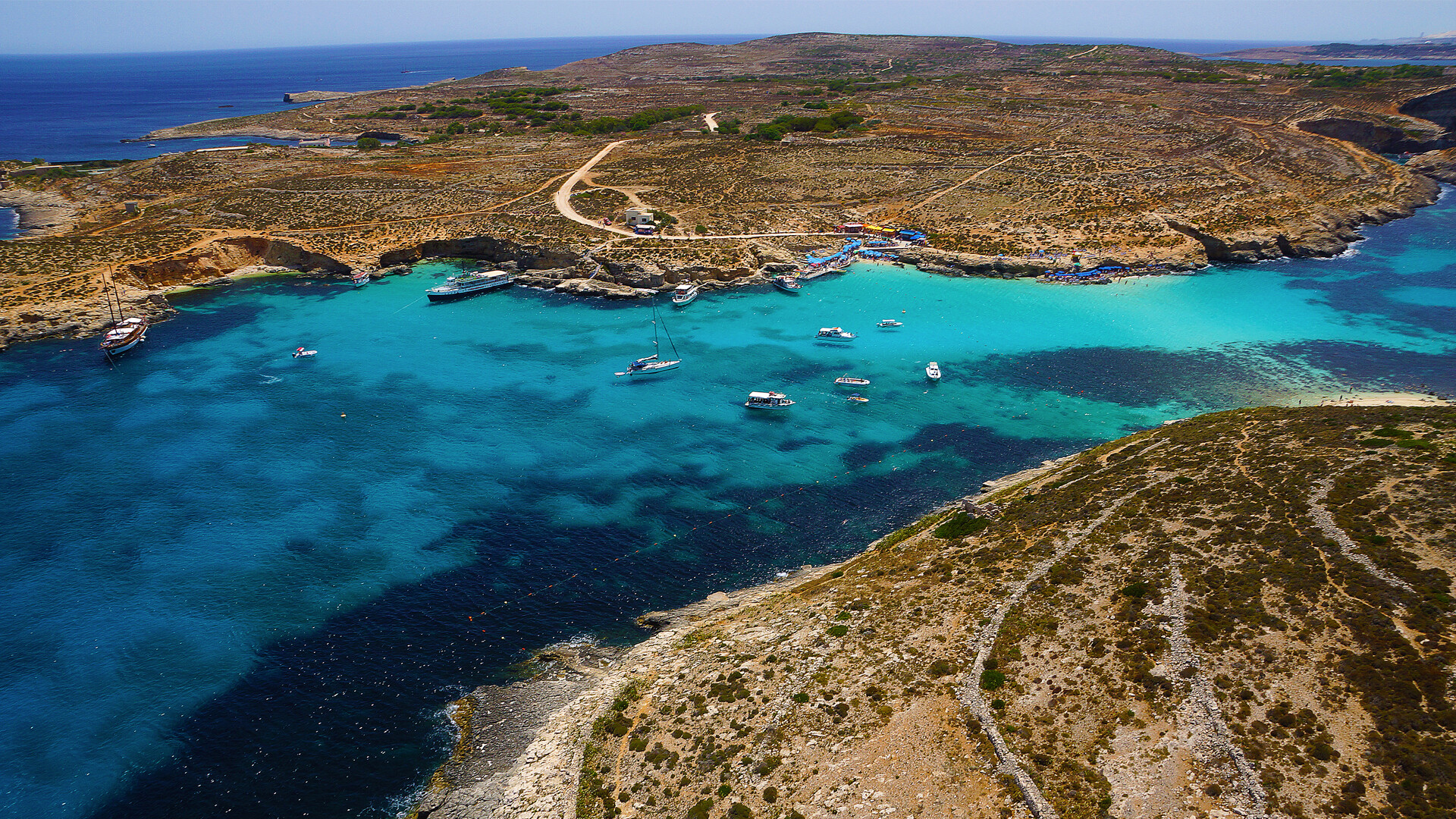 Gnejna Bay
Close to Mgarr, Gnejna Bay is located near Golden Bay and Ghajn Tuffieha Bay. If you want the ideal balance between a sandy beach and a rocky beach, then Gnejna Bay is for you. Parts of the bay consists of a golden sand colour while the other part of Gnejna is rocky which is perfect for sunbathing.
Ramla Bay, Gozo
Ramla Bay is the most popular bay in Gozo since it consists of almost red sand and crystal clear waters. The beach is equipped with a bar, cafe and an infamous ice-cream truck with the best slushie on the Maltese Islands!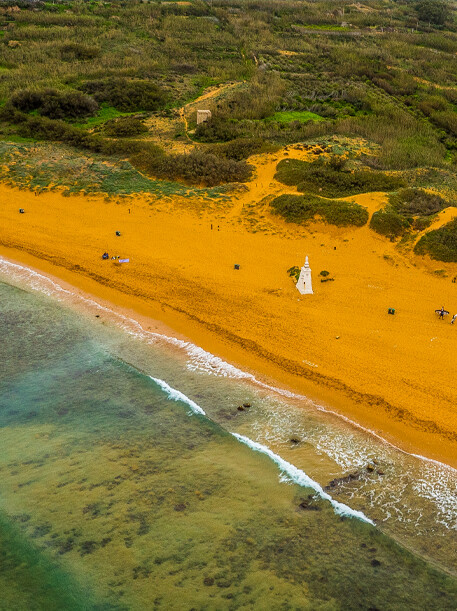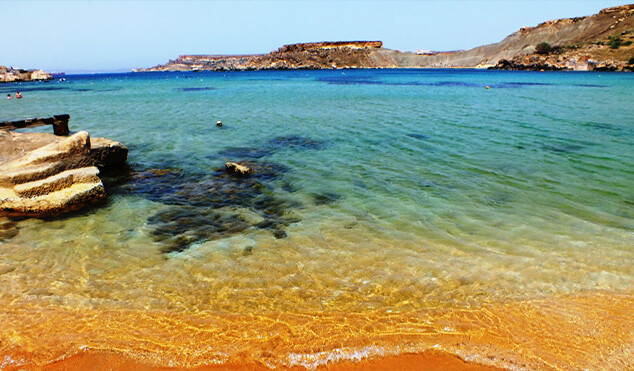 Blue Lagoon
Blue Lagoon is located on the small island of Comino and you can get to it by using the ferry. During the summer months, the bay can get very crowded since it's extremely popular for its crystal clear turquoise waters. However, be warned! It's also very common for jellyfish to reside in the bay so keep your eyes peeled!
St. Peter's Pool
Located in the south of Malta in Marsaxlokk, St Peter's Pool is a rocky beach that has become very popular. The beach is also ideal for snorkelling opportunities and sunbathing. There are no facilities in close proximity to this beach so make sure to pack food and water for a day by the sea! And, of course, sunscreen!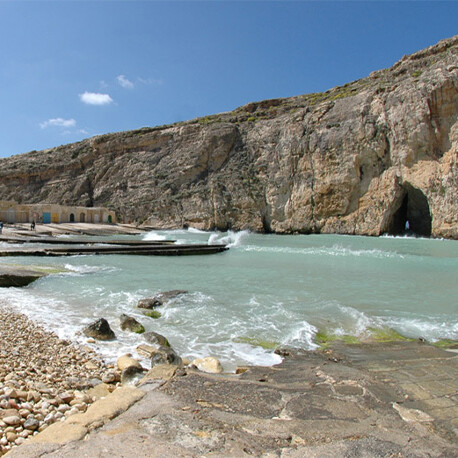 Plan your beach vacation the right way with AX Hotels Malta.
Book your stay