Corporate Travel Palatial Style.
When corporate travel calls you to Malta's iGaming capital Sliema, there's only one answer, AX The Palace. Luxurious work environment? Check. Five-star ambience, amenities, rooms and service? Check. Outstanding location? Check. The perfect location for bleisure travel!
AX The Palace is where indulgent leisure travel destination meets business travel haven. Over the years, the resort has become a favourite with executives looking for an upscale hotel that fulfils all the criteria for remote work suitability with acclaimed restaurants, bars and meeting spaces liberally sprinkled in.
A leisure-rich working environment
Recline on stylish outdoor seating on your private balcony taking in remarkable Valletta Harbour and Sliema cityscape views. Perhaps host an alfresco conference reliably powered by the high-speed WiFi.
Enjoy a caffeine boost with a shot of Lavazza from the espresso machine. Socialise a little over lunch in the stylish Talk of Town Café, or treat a business partner to something more elaborate in the five-star The Tabloid.
Later, get into the Sliema vibe beside the mood-lit pool bar area on the rooftop Lounge 360. Sip on sundowners before meeting friends for sensational Far Eastern cuisine in Temptasian, a serial award-winning Asian restaurant starring Chinese, Indian and Japanese dishes with a signature Palace twist.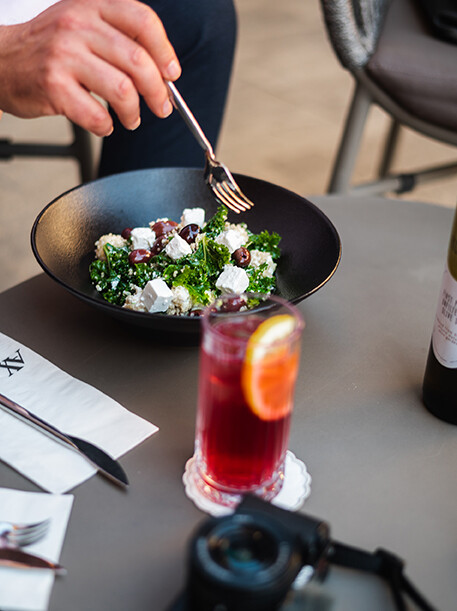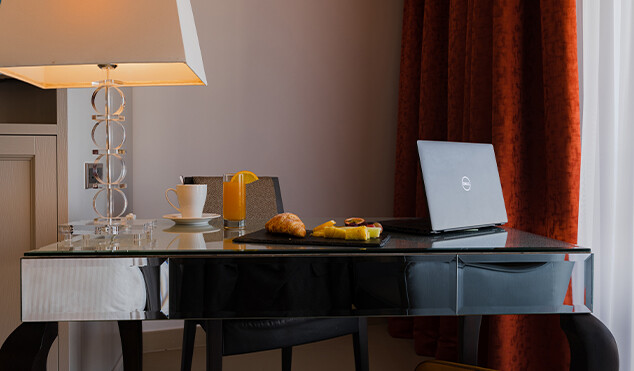 Sliema's Bleisure Palace
AX The Palace has become a mecca for bleisure travel, the buzzword for combining business and leisure travel into one convenient package. Set in Malta's showpiece shopping and iGaming district, world-class restaurants and vibrant nightlife surround the five-star hotel, attracting interesting people from around the world.
After a long day at your remote work desk, there's a world of battery-recharging pursuits to explore, although many business guests find most of what they need without leaving AX The Palace.
As a location for remote work, AX The Palace is ideal to invite clients around for business lunches or to meet with colleagues at other more informal meeting areas around the Hotel.
Convenient Resource for Business Guests
You're not on your own either. AX The Palace attracts a large number of VIPs and business executives, so it hires staff it knows such guests will appreciate. Aside from service excellence across the typical touchpoints you'd expect from a five-star operation, AX The Palace also gives business travelers access to professional corporate support resources.
The hotel's contact managers are one such resource who will arrange your day-to-day requirements, such as chauffeured return airport transfers, or tailoring conference venues or meeting rooms to your exact specifications.
They're also proactive and flexible, with established industry contacts in place to fulfil even the most unusual requests. Have a Michelin-Star Chef brought in to cater for a business party. Host a team-building exercise on an Azimut Yacht – your wish is their command.
With seven properties in the hotel group, contact managers are also well-accustomed to smoothly transitioning guests between hotels. They'll arrange for you to switch to an executive suite at the Rosselli AX Privilege for example, if you fancy a change of pace or dinner at the former palazzo's multi award-winning Under Grain fine dining restaurant.
Alternatively if you want to meet up with the family and children for a weekend by the sea, AX Sunny Coast and AX ODYCY are right on the coast and close to north Malta's Blue Flag beaches.