Back to News
The Perfect Gift Vouchers and Experiences in Malta for a Memorable Christmas
Our Services
|
0 min read
Scroll down
and dive deeper
Finding the perfect Christmas gift can sometimes be a bit challenging. You want to choose something thoughtful, a gift that is a pleasant surprise, and a delightful treat they might not think to get themselves. If you're facing this holiday gift-giving dilemma, consider the solution of AX Hotels Gift Vouchers in Malta. When it comes to choices and experiences, AX Hotels offers an impressive array. With seven distinctive hotels to choose from and a selection of over 20 bars, restaurants, and lounges, we've created a spectrum of possibilities to cater to every preference. Our offerings go beyond mere monetary transactions; they encompass both monetary and set experiences. You can select from a wide range of unique spa treatments, wellness retreats, and bespoke packages, creating a tailor-made journey that suits your individual desires and budget. Whether you're in search of opulent luxury or a memorable set experience, we've got you covered. Dive into the world of AX Hotels and embark on a journey filled with choice, indulgence, and endless opportunities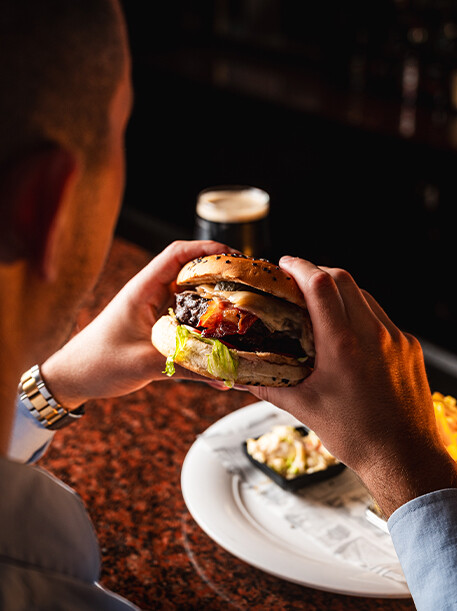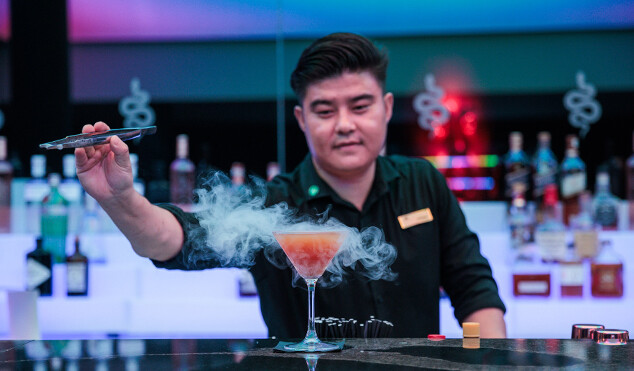 The convenience and versatility of AX Hotels Gift Vouchers.
At AX Hotels, we take pride in offering some of the best gift vouchers in Malta. We've made it incredibly convenient for you to shop for your gifts online, especially ideal for last minute gifts that won't disappoint. Plus, we offer a wide range of options to choose from, allowing you to explore various hospitality experiences in Qawra, Sliema, and Valletta.
Monetary Vouchers: With our monetary vouchers, you have the freedom to pick from a 25, 50 or 100 euro voucher you'd like to gift. Your recipient can then use that amount to redeem any experience they fancy at our AX Hotels, restaurants, and other facilities, including access to our spa and fitness amenities.
Experiential Vouchers: If you're looking for a more personalised touch, consider gifting them with one of our curated experiences within one of our establishments. This could be fine dining at our restaurants or a relaxing weekend break at one of our seven renowned Hotels in Malta.
All our gift vouchers are purchasable online, ready to be handed or emailed to your loved ones. It's the perfect way to present a thoughtful gift that promises a world of experiences.

Gift them the Rosselli AX Privilege experience.
For a luxury gift in Malta they will surely love, gift them with a luxurious stay at Rosselli AX Privilege in Valletta. Our 5-star boutique hotel promises an unforgettable experience right in the heart of the capital city. Housed within a beautifully restored palazzo, Rosselli offers a variety of rooms and suites, each brimming with its own unique charm. Located on Merchants Street, they're just a stone's throw away from all the wonders Valletta has to offer.
Plus, there are spectacular amenities to enjoy. From a stunning internal courtyard to a rooftop plunge pool, our hotel is designed to provide a delightful experience. They'll also find an array of fantastic dining options to choose from, including the MICHELIN-starred Under Grain, the Bib Gourmand-recognised Grain Street, and our rooftop lounge serving delectable seafood dishes at Over Grain.
Surprise them with MICHELIN Star dining experience at Under Grain.
This is one gift voucher that will surely leave them surprised this Christmas—a fine dining experience at the MICHELIN-starred Under Grain. From the moment they step into our vaulted cellar restaurant on Merchants Street, they'll embark on a culinary adventure unlike any other. Whether they prefer a tasting menu or selecting dishes from the seasonal a la carte menu, our restaurant offers a range of delicious courses. Each dish is expertly prepared, artfully presented, and bursting with flavours. To complement the exceptional cuisine, there's also a fine collection of international wines from our cellar. These wines are thoughtfully chosen to enhance the unique flavours of each delectable dish, adding a refined touch to the dining experience.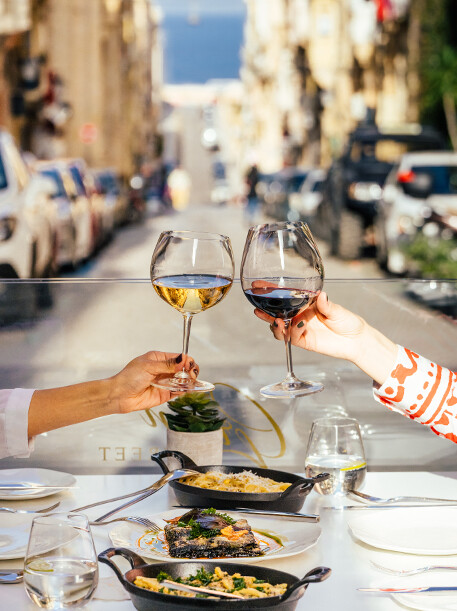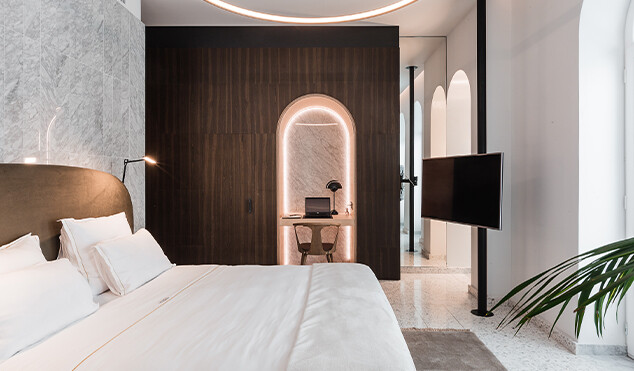 Treat them with casual dining at Grain Street.
If you're in search of restaurant vouchers in Malta that bring a casual yet refined twist to dining, consider Grain Street. Our restaurant, recognised with a MICHELIN Bib Gourmand, specialises in vibrant sharing plates that showcase the finest flavours of the Mediterranean. Our restaurant offers a charming outdoor dining experience set right on Merchants Street. It's one of the best spots on the island for al fresco dining. From here, they can soak in the capital's atmosphere while savouring a delicious meal, whether it's a leisurely lunch under the sun or a romantic dinner date under the stars.
Delight them with a Hot Tub Suite stay at AX The Palace.
For an incredibly luxurious weekend break in Malta, consider gifting them a hotel gift voucher for one of our Jacuzzi suites at the 5-star AX The Palace in Sliema. In addition to the fabulous facilities within the hotel, which include a spa centre, your giftees can enjoy a peaceful stay in a stylish suite, complete with their own private hot tub on the terrace that offers breathtaking views over the Sliema city skyline. Room service is just a phone call away, so they can enjoy champagne, cocktails, and refreshments without leaving their sanctuary. The perfect way to cherish every second of the stay.

Let them head on a culinary ODYCY.
When it comes to restaurant vouchers in Malta, you can't miss the culinary pleasures available at our recently revamped AX ODYCY resort in Qawra. Set along the coast, it boasts a selection of dining experiences that are simply irresistible. Each bar and restaurant offers a unique menu and atmosphere for your loved ones to explore.
Here are just some of the highlights they can opt for. Our brand-new Mediterranean Fusion Restaurant; Minoa provides a Level 11 rooftop dining experience with panoramic views of the Qawra coast. Its menu celebrates the diverse and vibrant flavours of the Mediterranean, paying homage to the diverse cuisines of North Africa, the Middle East, and Southern Europe, utilising the freshest, top-quality ingredients to create dishes with imaginative flair.  Medusa, an adult-only space, stands as a trendy sky bar on Level 10, offering breathtaking panoramic views, expertly concocted beverages, and delicious bites, creating an immersive atmosphere with an exclusive bar experience. Lastly, Trattoria Riccardo combines traditional Italian trattoria charm with a modern flair, where exceptional food is enjoyed in the company of friends and loved ones. And that's just the beginning of exciting experiences waiting to be explored at ODYCY!
How to purchase your AX Hotels Gift Voucher in Malta.
Have we inspired you with the perfect gift idea yet? Then it's time to take action!
You can visit our dedicated Gift Vouchers page to make your selection hassle-free. Should you require further assistance, don't hesitate to reach out to our team here. We're here to help ensure your gifting experience is as special as the gifts themselves.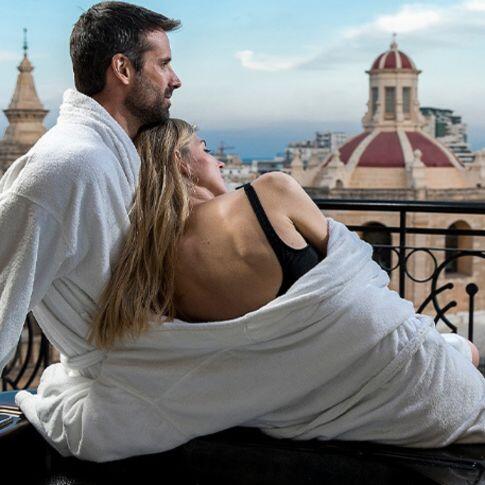 Uncover our range of gift vouchers for the ultimate gift-giving experience.
Explore