Back to Discover Malta
A Buffet Feast every Sunday at The Tabloid
Restaurants & Bars
|
0 min read
Scroll down
and dive deeper
AX The Palace's Renowned Sunday Lunch.
Sunday lunch has become a staple tradition among the Maltese, so much so that families make it a weekly appointment to gather together for a coma-inducing feast. Spend time with your family while enjoying a grand Sunday Buffet Lunch at The Tabloid.
At first glance, you'll be impressed by the wide variety of dishes, both hot and cold, and themed tables that will have your mouth watering in seconds. Expect lots of meat and fish, all cooked to perfection, paired with the most delicious of sides, and a couple of surprises, too! The ambience is perfect for a family-style meal, allowing you to chat and catch up over a 5-star feast.
To begin, take your pick from our three-tiered plated antipasto, featuring Maltese delicacies such as stuffed olives and local sausage, stuffed peppers, cauliflower fritters, smoked salmon, cold cuts and more. Next, choose from a selection of pasta and soup options such as our flavourful pumpkin and ginger soup with smoked duck, pasta parcels with fresh Mediterranean prawn mousse or casarecce pasta served in a wild mushroom ragout, pine nuts, rucola and parmesan shavings.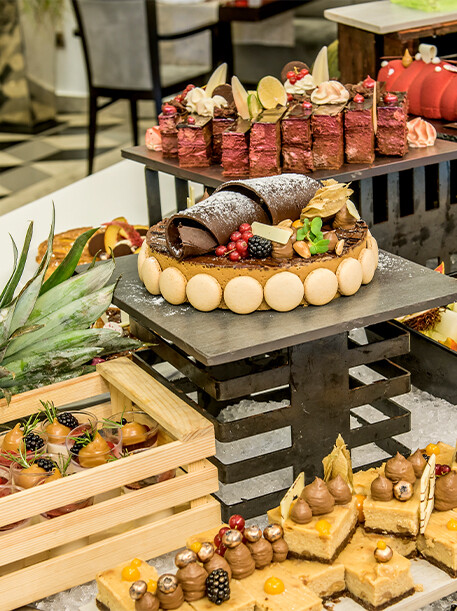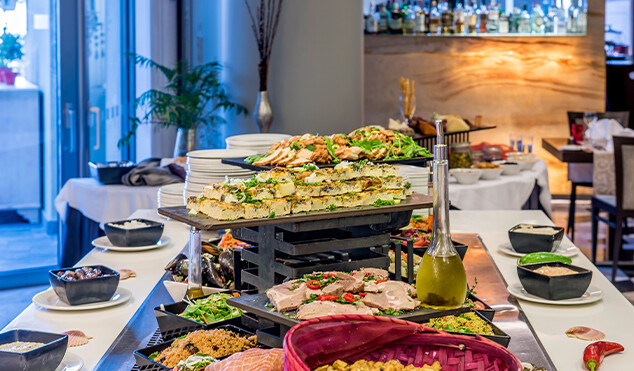 As the lunch progresses, make your way down the stations and tables, each one more mouth-watering than the next. The themed tables include TemptAsian, Mexican and Carvery, including specialities from each cuisine such as Peking Duck, beef burritos and roast beef, respectively. Hungry for more? The Tabloid also offers an array of hot dishes, such as poached monkfish, roast chicken, veal parcels and more, complemented with Dauphinoise potatoes, almond croquettes, French beans and more.
Kids will also be satisfied at the Sunday lunch with options such as chicken nuggets, potato smiles and mini pizza available for them to happily devour.
Your Sunday lunch doesn't stop there! The Tabloid Sunday Lunch Buffet also offers a Cheese Board with a selection of soft and hard cheeses, served with celery, grapes, walnuts and water biscuits.
Lastly, it's dessert time! Take your pick from the Ice-cream Parlour including ice-creams and sorbets served with chocolate chips, candied fruits, coulis, chocolate sauce, toasted almonds and flaked coconuts. If ice-cream is not your thing, make a beeline for the Dessert Table, featuring a supreme selection of desserts, both bite-sized and gateaux-style. To end your meal on a high note, coffee and petit fours will be offered, truly rounding off your 5-star meal.
Sunday Buffet Lunch is available seasonal. Menu is subject to change due to seasonality of products