Back to Discover Malta
A Breakfast Fit for Royalty at Copperfield's Restaurant
Restaurants & Bars
|
0 min read
Scroll down
and dive deeper
Starting the day right at a 4 Star Hotel in Sliema.
Whether you're a morning person or a night owl, no one can deny that a delicious breakfast is something worth waking up for. When travelling, especially, breakfast becomes a necessity. While the majority of one's holiday may be spent exploring the wonders of the Maltese Islands, breakfast is the part of the day dedicated to relaxing, indulging and preparing oneself for the day ahead!
Copperfield's Restaurant, located at 4 star AX The Victoria Hotel in Sliema, comes to you as a breath of fresh air. Ornately designed with floral motifs, turquoise walls and a soft touch – the interiors are an ode to the Victorian era, after which this 4-star hotel – with 5-star service – is named. An appreciation of timeless classic designs is met with one of the finest breakfast buffets in the town of Sliema, one that is truly fit for royalty.
Welcome to Copperfield's!
The aromas of a freshly prepared breakfast permeate through the classical-style hallways of AX The Victoria Hotel, encouraging you to work up an appetite before arriving at Copperfield's Restaurant. A warm welcome from the courteous hotel staff sets the tone for an enjoyable morning. You'll catch a whiff of caffeine coming from the fresh cup of tea or coffee.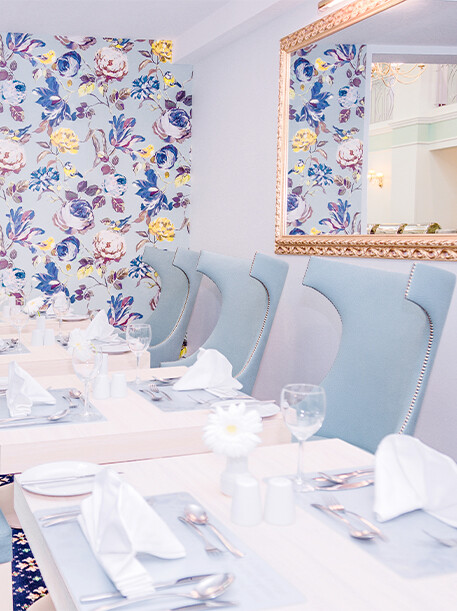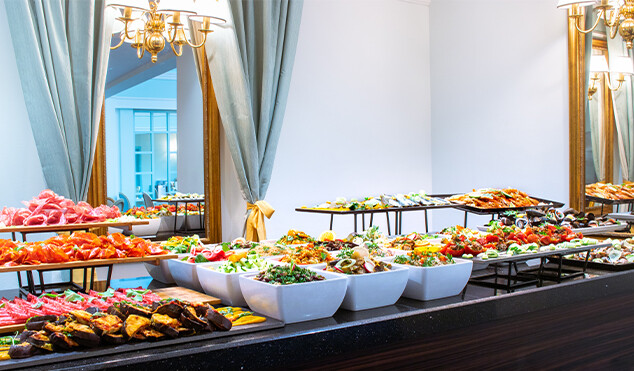 A lavish breakfast made for royals
Then, you see the mouth-watering selection of hot foods, cold cuts, bread, homemade pastries, cereals and fruits from the buffet. Pick up a plate and fill it to the brim, should you wish. You could choose to stick with a traditional English breakfast, consisting of freshly prepared sausages, beans, mushrooms, hash browns and tomatoes, or go full-on continental with an omelette from the egg station, pastries and toasted bread, completed with any topping of your choice.
Take your time to relax
After an invigorating cup of tea and an indulgent breakfast, take a moment to sit back and relax. The soothing interiors of Copperfield's Restaurant provide the perfect setting to do just that. Enjoy the elegant surroundings, plan the rest of your day, or simply have a little chat with your breakfast companion.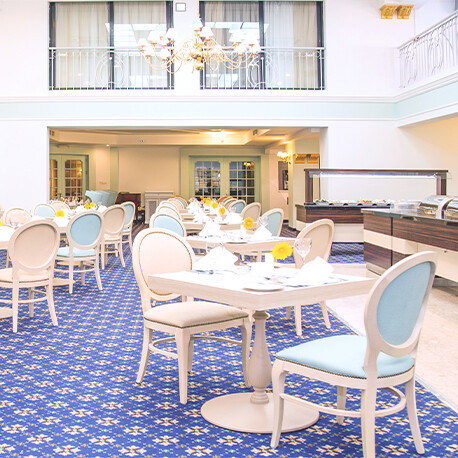 Start your day with a royal treatment at Copperfield's Restaurant when booking your stay at AX The Victoria Hotel!
Book your stay