Find out Where to Start and the Best Spots for Diving.
Malta is known for offering almost 300 days of sunshine, but that's not all. Being an island located in the heart of the Mediterranean Sea, its clear blue waters are ideal for scuba diving. The Maltese Islands are known for its unique diving experiences populated with reefs, magnificent caves and wrecks. You will enjoy a once-in-a-lifetime adventure on your holiday in Malta.
Diving in Malta - where to start?
If you're still new to diving, fear not! There are several types of diving courses that are offered by locally licensed diving schools. Various schools offer a long weekend taster course or a few trail runs so novice divers can get a feel of what they're getting themselves into before plunging in. Generally, the course will start on land, proceed with a pool orientated session and then dive into your first 30 minutes session in the clear blue waters.
The next step is the real deal – it's when you practice (with an instructor) actual diving techniques. To qualify for an entry-level diving certificate, you need to spend up to six days of diving. If you want to check the exact prices, most diving centres are a part of the local Professional Dive Schools Associations which is an organisation that can give you all that you need to know about diving in Malta.
The most recognised qualifications are at the following centres; Professional Association of Diving Instructors (PADI), the British Sub-Aqua Club (BSAC) and the Confederation Mondiale des Activites Subaquatiques (CMAS).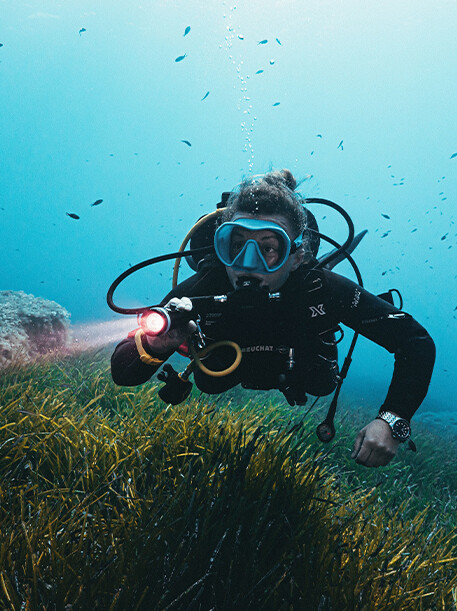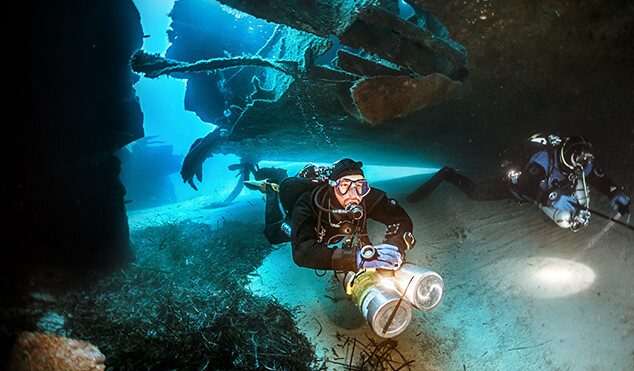 For the more experienced divers
If you're a professional or an advanced diver, the diving centre can pinpoint you to the right instructors for your dive. You can join in the various excursions organised by the diving centre to experience Malta at its finest. You don't have to carry your equipment with you on your diving holiday – you can rent equipment at the centres with no hassle. We recommend that you always check the weather conditions and speak to instructors before making plans to scuba dive. Even though Malta's weather is, almost always, impeccable, we do get rough seas and that, one-off storm.
Top spots on the Maltese islands
Now that you know how to get an underwater head-start; let's talk about the most famous diving and snorkelling spots on the islands. Dive in the blue waters of Malta, Gozo and Comino and experience the natural harbours, bays, sheltered creeks, reefs, wrecks and cliffs. Visibility is a dream down to around 30 meters, and you can witness a breath-taking display of colours the further down you go. If you're the more adventurous type, don't miss going for a night dive as the colours appear almost fluorescent by torchlight.
Some of the most popular diving spots include:
The Um el Faroud – Wied iz-Zurrieq. Max. depth: 35m
MV Karwela – Xatt l-Ahmar, Gozo. Max. depth: 45m
The Imperial Eagle – Qawra Point. Max. depth: 40m
Rozi, P29 – Cirkewwa. Max. depth: 36m
Blenhein Bomber – Xrobb l-Ghagin. Max. depth: 42m
Blue Hole and Azure Windor – Dwejra, Gozo. Avg. depth: 20/40m
Santa Maria Caves – Comino. Max. depth: 10m
Double Arch – Marsalforn, Gozo. Max. depth: 45m+
Reqqa Point – Marsalforn, Gozo. Max. depth: 45m+
Ghar Lapsi Cave – Siggiewi. Max. depth: 12m
Scuba diving while staying at AX Sunny Coast Resort & Spa
If you're looking for the ideal accommodation for your diving holiday in Malta, look no further than AX Sunny Coast Resort & Spa in Qawra. Apart from benefiting from serviced self-catering apartments, the resort is just one step away from a diving centre. Waterworld offers a fantastic experience for all divers. Whether you're a beginner or an advanced diver, you are guaranteed one of the best diving sessions around.
Depending on favourable weather conditions, Waterworld organises 2 to 3 tanks daily to explore the Mediterranean Sea. All their tours are led by PADI Instructors which means that you'll be in safe hands. If you're a beginner, you can apply for a scuba diver course that is carried out over 2 to 3 days.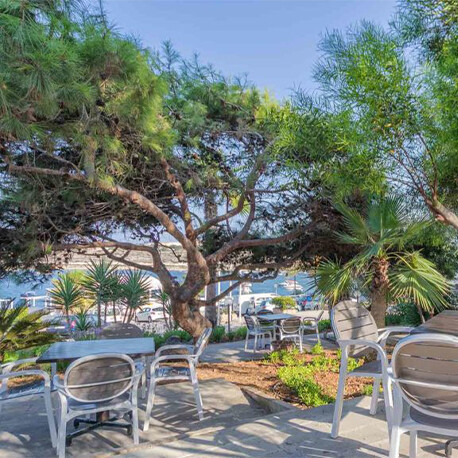 Book your stay at AX Sunny Coast Resort & Spa and experience diving in Malta for a breath-taking experience.
Book your stay