Back to Discover Malta
Your First Choice Hotel with Jacuzzi in Room in Malta
Accommodation
|
0 min read
Scroll down
and dive deeper
Looking for a hotel with jacuzzi in-room in Malta? Look no further!
Enjoy a 5-star stay in style
Being one of the few hotels with jacuzzi in-room in Malta, AX The Palace offers guests with the unique choice of booking a Superior Suite with Hot Tub, or the one and only Music Suite with Hot Tub which is part of our exclusive Designer Collection Suites.
Sit back in the temperature-controlled jacuzzi as you feel the jets easing tight muscles and tense shoulders, and watch your worries wither away!
A staycation you won't forget
If you're looking to book a surprise stay for your loved one, why not go the extra mile and get a hotel room with a jacuzzi?
Whether it's for their birthday, Valentine's, Christmas, or an anniversary, a private hot tub on the balcony is just the thing you need to wow them and make it a stay to remember.
The perfect plus point for travellers
Make the most out of your trip to the Maltese islands by staying at one of the only hotels with private a jacuzzi in Malta and Gozo.
With temperatures dropping to between 15 – 17 °C in the Winter months, a dip in the jacuzzi with views overlooking the Sliema city skyline, the sparkling Mediterranean Sea, and the historically gorgeous sight of Malta's capital city, Valletta, is just what you need for a truly perfect vacation to Malta!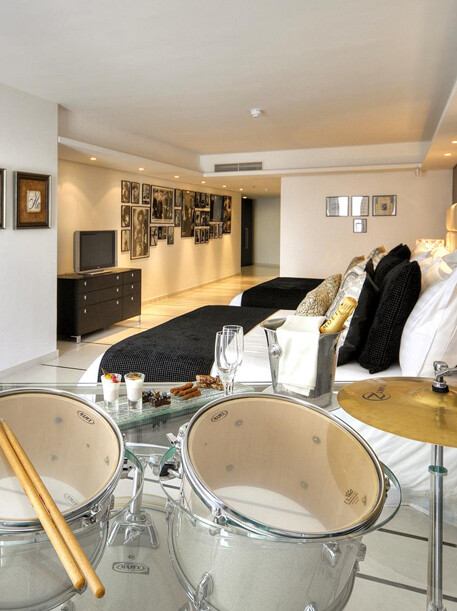 The superior suite with jacuzzi
Boasting a striking private jacuzzi on the balcony adjoining a stunning 47 m2 room, this suite provides only the utmost luxury and relaxation to all who enter its doors.
A romantic refuge from the hustle and bustle of Sliema city life, this suite offers guests with a spectacular Valletta Harbour view from the comfort of their own private jacuzzi. Watch the sun set over one of Malta's most historic locations as the jacuzzi jets relieve all your stresses and worries.
Alternatively if you want to meet up with the family and children for a weekend by the sea, AX Sunny Coast and AX ODYCY are right on the coast and close to north Malta's Blue Flag beaches.
The designer suite with hot tub
With a whopping 55 m2, this suite is an ode to luxury. The Music Suite is made to inspire your senses and take you on a musical journey with the biggest names in the industry.
Also boasting glorious views of Valletta's Harbour, this sleeps 3 Suite has two separate beds, a lounging area where comfort is of utmost priority, and a large private hot tub on the balcony. This Suite was made with style, comfort, sophistication, and most importantly, relaxation in mind.