Back to News
Rosselli restaurant collaborates on Taste History Meets the Stars
Scroll down
and dive deeper
Under Grain collaborates on Taste History Meets the Stars
Rosselli's Michelin-star Under Grain restaurant was invited to participate in a special, year-long gourmet project—Taste History Meets the Stars.
Organised by the Malta Tourism Authority and Heritage Malta's Taste History, the initiative called on the talents of a trio of Malta's finest chefs, including Under Grain's Executive Chef Victor Borg, to create exclusive dishes inspired by the island's history.
Chef Victor rose to the challenge of designing a flavoursome recipe that takes its cues from the Rosselli building's ties to food in the capital—the fruit and veg market on Merchant Street, the meals shared by the friars at the nearby Dominican Priory. Another key influence in Chef Victor's chosen dish was a painting by Charles Frederick de Brocktorff. This watercolour opens a window into a traditional 19th-century Maltese tavern and is the oldest known image of locals feasting on pasta in Valletta, a dish that remains a Maltese culinary staple.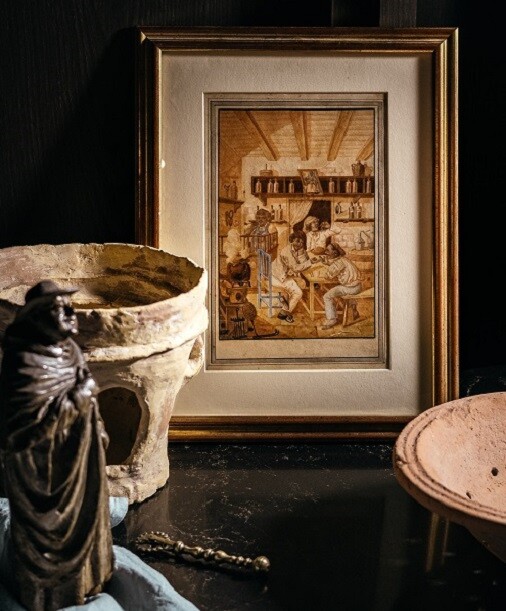 Taste History Meets the Stars
With these historical ingredients in mind, Chef Victor designed a sublime new pasta dish called Papiri Gentile Selection, which combines pasta with the homely flavours and textures of crispy chicken wings, parmesan, yeast, and raw king oyster mushrooms.
"It's an honour to participate in Taste History Meets the Stars. This was a unique opportunity to delve deeper into Valletta's rich history of food and cuisine. Food is about much more than the act of eating. It's also about our history and traditions too, about creating communal experiences that are passed down through the generations. I hope that I've created a dish that puts a modern spin on homespun Maltese cuisine, where every mouthful is a memory that lingers," explains Chef Victor.
Papiri 'Gentile Selection' was featured on Under Grain's autumn à la carte menu alongside an insightful description detailing the historical inspirations behind the dish.
Make a reservation at Under Grain restaurant and enjoy Chef Victor's seasonal delicacies.
Book your stay